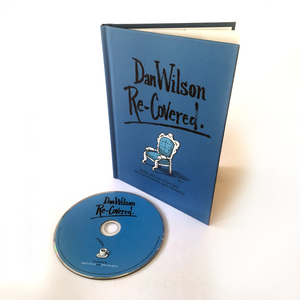 A 56-page book of Dan's illustrations, stories, and songwriting observations about each Re-Covered song, in addition to each song's lyrics. This deluxe hardcover book/album includes a physical CD.

1. All Will Be Well  (Gabe Dixon & Dan Wilson) 4:44
2. Home  (Dierks Bentley, Brett Beavers & Dan Wilson) 4:40
3. You and I  (John Legend & Dan Wilson) 4:37
4. Someone Like You  (Adele & Dan Wilson) (ft. Kronos Quartet) 4:50
5. Never Meant To Love You  (Cory Chisel & Dan Wilson) 3:44
6. Not Ready To Make Nice  (Dixie Chicks & Dan Wilson) 3:43
7. Landing  (Matt Wilson & Dan Wilson) 2:51
8. Treacherous  (Taylor Swift & Dan Wilson) 3:40
9. Borrowed  (LeAnn Rimes, Darrell Brown & Dan Wilson) 3:27
10. Your Misfortune  (Mike Doughty & Dan Wilson) 3:05
11. When The Stars Come Out  (Chris Stapleton & Dan Wilson) 3:58
12. If I Walk Away  (Josh Groban & Dan Wilson) 3:58
13. Closing Time  (Semisonic & Dan Wilson) 4:33

Wilson's third solo studio album, Re-Covered, was released on August 4, 2017. The album is a collection of reinterpretations of songs Wilson wrote for other artists, both big hits and "songs that I always wished were big hits, but weren't."
All orders placed between 8/4/22 and 8/11/22 will include a free download link of an exclusive acoustic version of Dan's previously released single "Under The Circumstances." Download links will be emailed to the address associated with your order. 
Regular price
$19.99
$0.00
Unit price
per
---